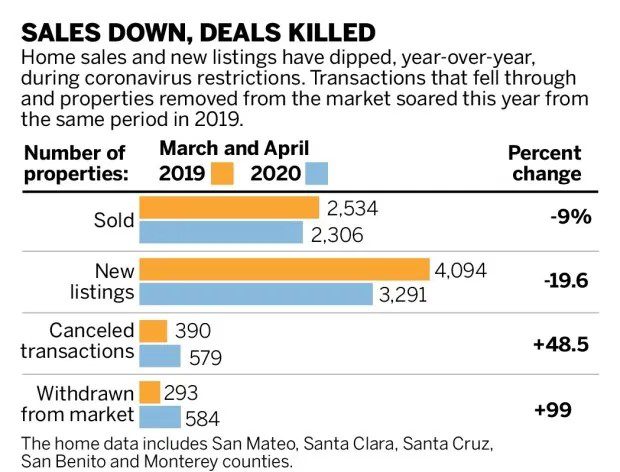 Long-term uncertainty caused by the pandemic has slowed down new listings and purchases.
Some restrictions agents need to follow are no paper flyers to hand out, showings by appointment only, no more than two family members in a house. The home must be unoccupied by the seller and safe distancing must be maintained. Lenders, escrow agents and some county clerk offices are functional during the shelter-in-place, while those real estate business not deemed "essential" are currently closed.
Bay Area transactions in March and April are down from the same time last year, with buyers and sellers backing out of some deals, according to MLSListings data from the counties of San Mateo, Santa Clara, Santa Cruz, San Benito and Monterey.
Home sales falling through increased by 50 percent from the same time last year. Fifty percent of sellers pulled their properties from the market in the past two months compared with last year. Also, according to the MLS Listings data, home sales fell 9 percent. What does this mean?
If your circumstances permit, and you are ready to purchase, and in certain cases looking for a very good deal, now may be the time to purchase a home for family use, or as an investment. Ask me what you can do, or what type of properties to look for.